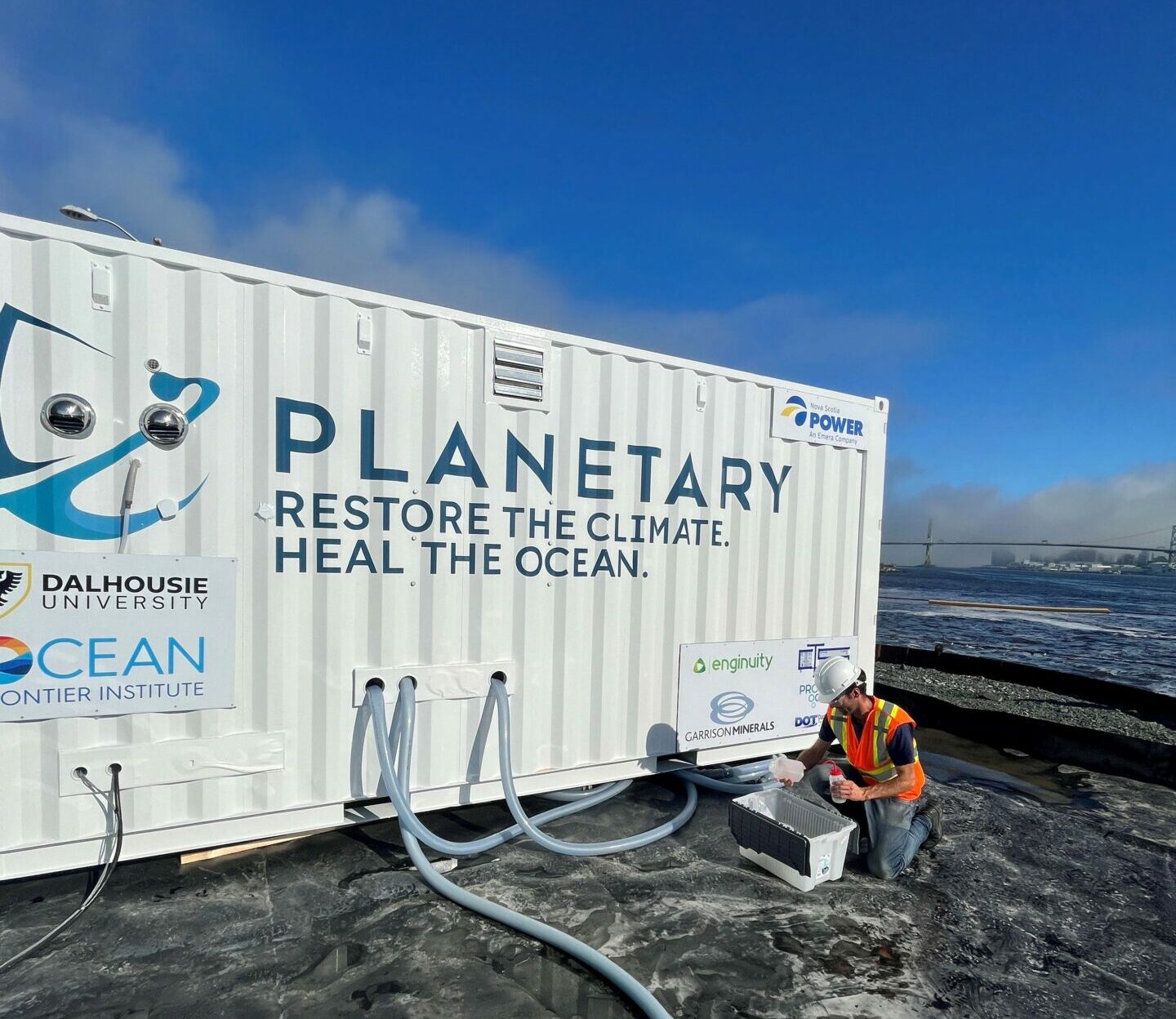 Planetary is thrilled to announce that our Ocean Alkalinity Enhancement (OAE) process is now operational in Halifax, where it is successfully removing tonnes of carbon dioxide from the atmosphere every day.
To our knowledge, this is the first carbon-negative OAE project operating anywhere in the world, and it is the next step of our exploration into whether OAE is right for Halifax. 
This project works to remove carbon dioxide from the atmosphere by neutralizing carbon dioxide in the ocean. Planetary is investigating how we can safely and effectively deploy ocean alkalinity enhancement, and independent oceanographic experts at Dalhousie University are conducting their own research based on the additions.
OAE has an enormous capacity to scale and to contribute to global climate mitigation efforts, and we are excited to be taking these first steps into making OAE's possibilities into reality.
At the same time, we are just beginning field studies, so we need to balance our enthusiasm for the opportunity with caution, acknowledging the fact that we still have much to learn. We will continue to proceed with this study carefully, monitoring both the outfall and the receiving waters to identify any unexpected changes in the ecosystem. Dalhousie's experts will conduct their own studies throughout this project's lifespan, developing a deeper scientific understanding of the effect OAE projects may have on a marine ecosystem.
If no unexpected changes are observed by Planetary or any of our partners, and if we continue to receive the support of all relevant regulators, we will gradually increase the dosage rate. If run continuously for a year at the projected final dosage rate, this project would remove thousands of tonnes per year while remaining well within regulatory guidelines. This rate will make this project one of the largest permanent Carbon Dioxide Removal (CDR) projects operating anywhere on the planet.
At the end of this year, when this initial study is complete, we will analyze the collected data and share the results publicly. If the results are positive, we will develop plans for additional field studies in Halifax next year. Plans for those studies will be developed based on data from this trial, as well as input from community members and regulatory bodies. We are likely years away from a full-scale deployment, but we look forward to collaborating with all relevant stakeholders in designing the next steps of the project.
Establishing this project has been a team effort, and we are grateful for the work done by all our many collaborators, from both the public and private sectors. 
Most of all, we thank the community of Halifax, who have engaged with us in open-minded and well-intentioned discussions, and who have welcomed this project into our community. We look forward to continued collaboration as we work to understand the role OAE can play in Nova Scotia's future.